Screening Sod Peat Ridger PSK-4
An effectively screening hitch-mounted sod peat ridger

The ribbed roller lifts the sods onto the screen with plastic discs. The screen efficiently and gently separates any fine particles from the sods. The screen moves the sods on the transverse screening bar-belt conveyor, which takes the sods onto the ridge at the side of the machine. The ridger is equipped with a ridge-shaper, which ensures that sods in the ridge are dried efficiently. When assembling the screen, the discs can be adjusted with 5 mm steps by placing adjustment plates between the discs. This alters the screening matrix and enables fine tuning of the results. It would be advisable to use a tractor with a reverse drive control unit for mounting the ridger, but it is not mandatory.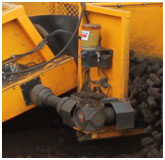 A heavy-duty power transmission with an automatic lubrication system as standard ensures that the ridger has a long operational life. The automatic central lubrication system also lubricates both chain drive and the shafts of the screen.



Screen discs are made of durable plastic to minimise the weight. The shape has been optimised for a good screening result.
Specifications
Screening capacity

n. 200 m3 /h

Engine output requirement

60 – 80 kW

PTO

1000 rpm

Screen disc area
4,2 m2

Required hydraulics

1 pcs 2-action valve and
1 pcs 1-action valve
Weight

1700 kg

Tyres (2 pcs)

400/60 - 15.5
2 pcs
Automatic central lubrication

Standard