Sod Peat Screen PKS-9
High capacity screening sod peat loader

The disc screen section efficiently screens any fine material among the sods and the loader is designed to follow the contour of the surface even better than before. The screen section features either discs of special plastic or alternatively steel discs. The machine can even be used for screening and loading of ridges at a ditch bank. The machine is equipped with an electrical (12 V) fully automatic central lubrication system. It can also be fitted with an optional drum, mounted under the screening deck, which improves the terrain-driving properties. Also transport wheels are available, which are operated (lowered) by a hydraulic cylinder. This feature considerably facilitates transporting the machine from one worksite to another.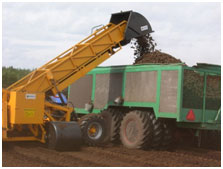 The loading conveyor's hydraulic height adjustment unit provides low driving height and high loading height. Even high-board trailers can be loaded with ease.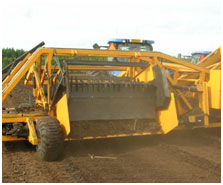 The range of optional accessories also includes a stump screen, which efficiently separates stumps and cotton grass tufts from the peat. The stumps can be dropped from the screen onto the field or collected into the stump container and stack into own piles.
Specifications
Loading capacity

500-600 m3/h
Operating speed

1,5-3 km/h

Engine output requirement

Min. 100 kW

PTO

1000 rpm

Required hydraulics

2 pcs 2-action valves and
2 pcs 1-action valves
Tyres

400/60 15,5 (2 pcs)

Support rollers

D=950 L=1000 (3 pcs)

Transport tyres

16.0/70 – 20 (2 pcs)

Weight

ca. 8900 kg
Optional equipment:
Transport wheels, stump screen and -box, support drum