Milled Peat Loader JKS-15S
The most powerful milled peat loader for large production areas

Owing to the wide and efficient pick-up head it is well suited for large ridges consisting up to 5-6 harvests. By placing the pick-up unit's articulation between the upper and lower frame, the loader perfectly follows the contour of the field. At the same time the loads affecting the frame of the machine are reduced. The ribbed roller at the pick-up head is spring-suspended; it yields when it hits an obstacle, thus preventing damage. The loader has been designed to be extremely environment-friendly. The quantity of dust released into the air has been minimised i.a. by protective covers and the shields on the discharge head. Another key aspect for developing the unit loader has been its handling. A good example of this is the convenience with setting the loader into the transport position. Peatmax's more than forty years of experience with conveyor loaders has been utilised when designing the power transmission. The power transmission components are dimensioned for the largest possible loads.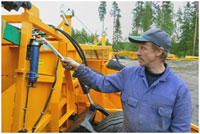 The central lubrication system and the protective covers with quick-release locks makes the maintenance easy and fast. The loader features a winch to facilitate the handling of the drawbar and the guiding wings.
Specifications
Capacity

2500 m3  / h

Operating speed

3-8 kmh

Required  engine output

100–140 kW

Hydraulics outlets

2 pcs 1-action valves

Weight

ca. 7500 kg

Tires on the bottom frame
Transport tires, top frame

400/60 - 15.5
500/60 - 22.5

PTO

1000 rpm

Central lubrication

Standard