Milled Peat Trailer with Drive JPV-45V
An efficient rough-terrain wagon-type trailer for Haku-method and discharging onto stockpiles.
The three-beam frame of the trailer has proven its durability and operating properties in the most difficult conditions. The machine may be trailed on roads without having to remove the secondary wheels. The wagon-type design makes the trailer agile and it can be easily turned on fields. No recycled lorry parts are used in the trailer's power transmission system. All the components are new, specially dimensioned for production machines, and extremely durable. A JPV-45 V can also be subsequently upgraded into a mechanical peat harvester JMK-55 V.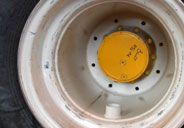 The trailer's driving axle is hub-driven. This, along with the rest of the heavy-duty transmission, results an extremely durable power line capable of withstanding maximum torque. The driving axle in the front of the trailer is always matched to the transmission of the tractor, specified by the customer.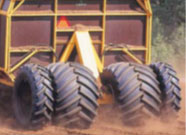 Large tyres reduce the surface pressure and the trailer can operate also on soft production fields. The trailer can also be equipped with low-pressure tyres.
Specifications
Capacity (water volyme)

ca. 40 m3

Tyres front

900/50 R42

Tyres rear

800/60 R34

Engine output requirement

100-120 kW

Required hydraulics
1 pcs 2-action valve
1 pcs 1-action valve

Optional equipment

200 l fire extinguishing tank