Milled Peat Mechanical Harvester JMK-40
Sideways unloading mechanical harvester with optional drive

An efficient rough-terrain mechanical peat harvester. Due to its side-tilting bottom the harvester is well suited for production sites where the push-stockpiling method is used. The harvester can be equipped with a friction roller (Robson) or hub motor type auxiliary drive, which even makes stockpile compacting easy. Furthermore it is possible to mount a front ridger on the tractor, which allows to perform ridging and harvesting of the peat at the same time.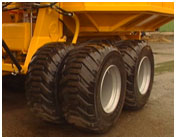 Compared to the weight of the machine, the harvester's tyres are sufficiently large for reducing the surface pressure. Hydraulic hub motors available as an option are installed in the front wheels of the bogie. Another drive option is Robson-drive for both wheels of the bogie.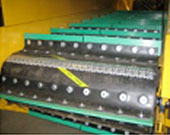 Collection belt buckets are flexibly attached to the conveyer belt. The buckets are made of plastic  to reduce the fire risk.
Specifications
Capacity

60-100 m3/h

Operating speed
2-7 km/h

Load space volyme

n. 40 m3

Tyres (8 pcs radial tyres)

600 x 26.5

Weight
8100-8800kg

PTO
1000 rpm

Engine output requirement

80-120 kW

Width of harvesting collector

1,7 metriä

Width of conveyer

1,2 metriä

Required hydraulics
(non-driven model)

1 pcs 2-action valve
1 pcs 1-action valve

Drive option hydraulics

2 pcs 1-action valve + free return