Milled Peat Spoon Harrow JLK-19 M
Efficient, trailed spoon-type harrow for milled peat

The machine features air-inflated tyres and steel spoons to maximize the efficiency. The harrow has two alternative towing points for choosing the optimal driving line for the tractor. The middle spoon frame can be lifted during operation, which makes the unit very useful in multi-harvest production. The harrow is available in a number of versions, and each of them can be equipped with different accessories that will increase the operating speed or make the unit less dependent on the weather conditions.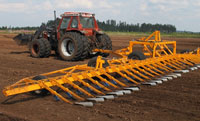 Patented high speed spoons in order to increase the operating speed of harrowing.
Specifications
| | |
| --- | --- |
| Capacity | 10-15 ha/h |
| Working width | 18 m |
| Transport width | ca. 12 m |
| Tyres on the middle frame | 400/60 – 15,5 |
| Tyres on the wing frame | 200/60 – 14,5 |
| Weight | ca. 2400 kg |
| Required hydraulics | 3 pcs 1-action valves |