Fire Extinguishing Trailer PSPV-4000
Fire extinguishing trailer with good mobility on difficult terrain

The trailer features powerful pumps and misting / sprinkle nozzles for  extinguishing peat fires. Easy, fast and reliable filling of the tank with a submersible hydraulics driven pump. The misting nozzle can be connected directly to the pump coupling, allowing to spray the field or peat ridges at the side of the machine when the unit is driving.
Filling up the tank with the hydraulics powered submersible pump, mounted on the hydraulics opeated boom.
Pump performance 1 500 l/min.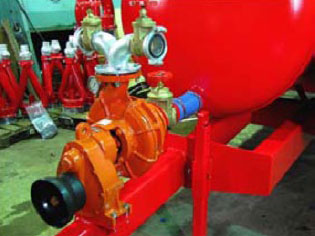 High Pressure Pump
Capacity (3,6 - 102) m3/h (max capacity 1 700 l/min)
Pressure 14.4 - 11.4 kp/cm2
Max rpm at PTO shaft 914 rpm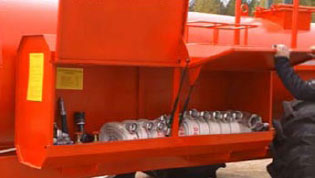 All necessary equipment are stored in the locker, including the drive shaft and the adaptors.
Couplings are installed based on customer requirements / country standards
Specifications
Lenght 6 832 mm

Height 2 490 mm
Width with twin tyres 3 340 mm
Width with single tyres 2 340 mm
Tyre size 14,9 x 28
Weight ca. 3 200 kg
Tank capacity 4 000 l
Shut-off valve between the pump and the tank
Racks for the accessories
Safe walkways
Hydraulics requirement: 1 pcs 2-action with ½" connector.